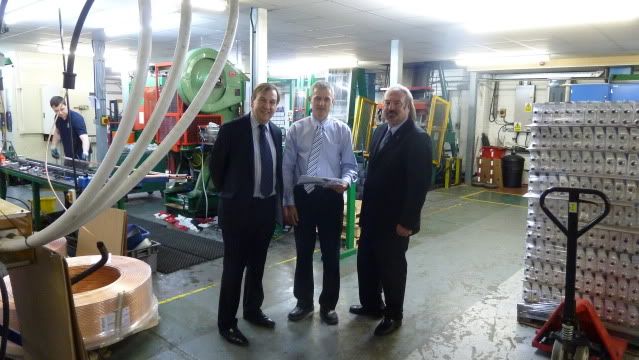 John Whittingdale visited Smith's Environmental Systems Ltd based in Blackall Industrial estate, South Woodham Ferrers. John is pictured with Phil Cross, Works Director, and Gary Webster, Managing Director.
Smith's has specialised in the manufacture of fan convectors for the domestic and light commercial markets for more than 20 years. The company has recently moved into the sustainable sector with the development of heat pumps and PV Thermal systems, which can be installed on residential and commercial premises to generate electricity for domestic heating and hot water.
Mr Whittingdale met with Smith's founder and managing director Gary Webster and toured the facility, meeting shop floor staff, office staff and visiting the company's product test, demonstration and Research & Development areas.
"I am always delighted to discover a local business which is designing and developing world-beating products," said Mr Whittingdale. "Smith's are in the forefront of the manufacture of green energy heating products at a time when it is becoming ever more important that we increase our energy efficiency by adopting low carbon technologies. And with the commitment to developing a low carbon economy in the UK, I'm quite sure that Smith's are moving into the green heating and sustainable sector at exactly the right time."
"We are very proud to be a local, British manufacturer," explains Gary Webster. "We are a family company and we are all very proud of what we do and how we do it. It's important to us to make sure that important people like Mr Whittingdale are aware of the great work our staff are doing."
Further information about Smith's products is available from www.smiths-env.com