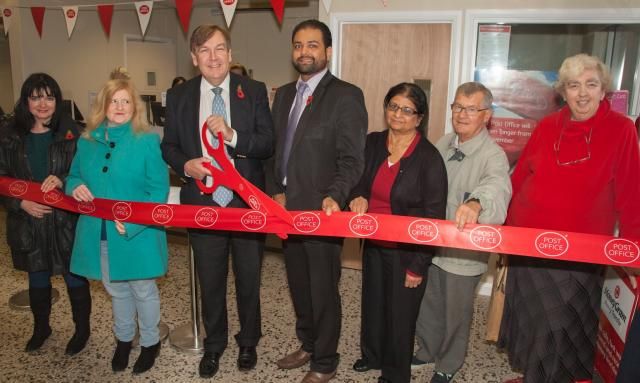 John Whittingdale cut the ribbon to mark the opening of the new-look Burnham on Crouch Post Office, which has been fully refurbished with Post Office services now available from four modern counters. The Post Office at 22 Station Road, Burnham, now has three main counters - two open plan and one screened, open Monday to Saturday 9am – 5.30pm. There is also a combi-counter, where customers can access selected Post Office products and services alongside retail transactions. This is open Monday and Thursday: 9am to 8pm; Tuesday, Wednesday and Friday: 9am – 6pm; Saturday: 9am – 5:30pm. There is improved layout of the store which makes it easier for customers with disabilities and people with pushchairs to get around the pharmacy and Post Office. Opening hours have also been extended - 11 hours a week more than previously offered, including Saturday afternoon and later closing every day.
Ani Patel, who has been a postmaster for more than five years, said: "The branch is now better laid out and more spacious for customers to have more room to get around the whole store. It is
a lot more customer friendly. It is modern and clean and easier to have conversations with the open plan counters. The consultation room allows private conversations – just like a bank."
Gary Herbert, Post Office Senior Stakeholder Manager, said: "We understand how important having a Post Office is to residents in Burnham on Crouch. I am confident this new modern Post Office will meet the needs of the local community and secure services for the future. This modernisation is part of a major investment programme, the largest in the history of the Post Office. It marks a commitment to no more branch closure programmes."
Under the current Parliament the Government has committed £1.34bn for the Post Office network to make sure there is no programme of Post Office closures and to update branches; in November the Government announced a further £640m investment in the Post Office network, from 2015 to 2018. Nationwide the investment programme will see up to 8,000 branches modernised with additional investment in over 3,000 community and outreach branches.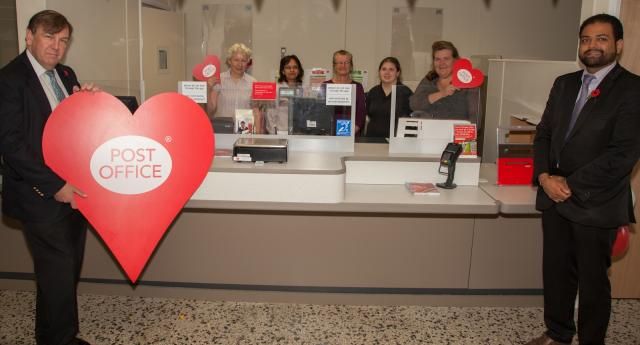 John is pictured with Ani Patel, Postmaster, and with customers and staff.