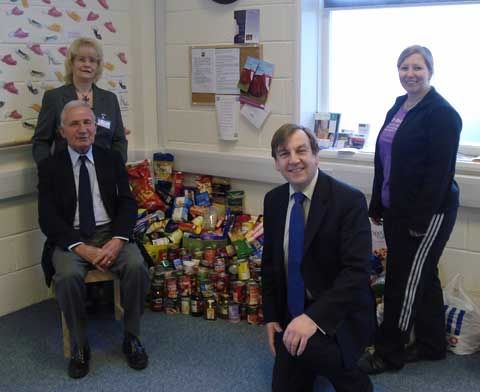 John Whittingdale, MP for Maldon and East Chelmsford, visited Curves of Maldon, a ladies fitness club based at the Riverside Industrial estate at Mill Lane, Maldon.
Curves is part of the world's largest fitness franchise with nearly 10,000 locations worldwide. Franchise holders, Wendy Baker and Sarah Neal, now own three local clubs in Wickford, Maldon and South Woodham Ferrers. The clubs offer thirty minute workout programmes for ladies of all ages.
Each year, Curves organises a Food Drive to benefit local food banks. The joining fee was waived for any new member who brought in a bag of non-perishable groceries during March. These together with donations from existing members are to be distributed to the local community. Collectively, over the past 5 years, nearly 50 million pounds of food has been distributed worldwide. In Maldon, Curves is working with the Dengie Project Trust to distribute the food to local women's refuges, elderly persons homes and to servicemen in Iraq and Afghanistan.
John Whittingdale said: "I was delighted to support Curves Annual Food Drive. Sarah and her colleagues are doing a great job helping ladies in Maldon to keep fit and healthy and at the same time benefitting local voluntary groups supplying food to those who need it most".
John Whittingdale is pictured with Hilda Haslam, Coordinator of the Dengie Project Trust, Peter Newton, Trustee and Sarah Neal, owner of Curves.